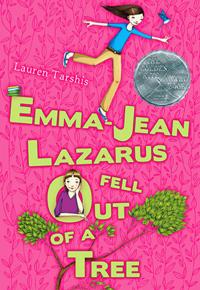 Emma-Jean is a 7th grader at William Gladstone Middle School. Her best friends are her mom, her bird Henri, the school janitor Mr. Petrowski, and Vikram Adwani, a graduate student who lives on the third floor of Emma-Jean's house. Emma-Jean is content in her world. She has no interest in becoming friends with the other girls in the seventh grade. Their lives are so messy. They're always shrieking and crying and getting into fights. Emma-Jean is extremely logical, like her late beloved father, Eugene Lazarus, a mathematician who died in a car accident.
But then one day, Emma-Jean finds kind and generous Colleen Pomerantz sobbing in the girls room, convinced that the meanest girl in school is trying to steal her best friend. Emma-Jean knows she shouldn't get involved. But poor Colleen is so distraught. And Emma-Jean wonders: maybe she could help? Maybe her awesome powers of logic would enable her to solve Colleen's problems?
From this moment, Emma-Jean's neatly ordered world begins to tilt, until it is turned totally upside down. But soon she connects with Colleen, and learns that the messy world of friendship is a world worth exploring. 
Awards for Emma-Jean Lazarus Fell Out of a Tree
SCBWI Golden Kite Honor Book for Fiction

Finalist, E.B. White Award 

Book Sense Pick

Best Children's Book of the Year, Publisher's Weekly, School Library Journal, 
New York Public Library