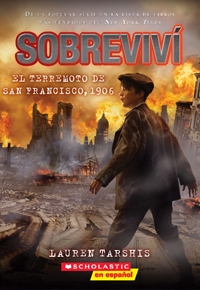 ¡La versión en español de I Survived The San Francisco Earthquake, 1906!
A Leo, de diez años, le gusta ser vendedor de periódicos en San Francisco: no solo gana dinero para ayudar a su familia, sino que también es libre de explorar la asombrosa ciudad, a medida que esta cambia y crece con el nuevo siglo. Los carruajes tirados por caballos comparten las calles con automóviles brillantes, hay muchos nuevos negocios y llegan familias a asentarse en la ciudad diariamente. Es un lugar en el que todo parece posible.
Pero, una mañana de primavera, esto cambia. El mundo de Leo se estremece, literalmente, y el chico se encuentra en medio de una ciudad destruida e incendiada. ¿Podrá Leo sobrevivir este desastre devastador?
Ten-year-old Leo loves being a newsboy in San Francisco -- not only does he get to make some money to help his family, he's free to explore the amazing, hilly city as it changes and grows with the new century. Horse-drawn carriages share the streets with shiny new automobiles, new businesses and families move in every day from everywhere, and anything seems possible.
But early one spring morning, everything changes. Leo's world is shaken -- literally -- and he finds himself stranded in the middle of San Francisco as it crumbles and burns to the ground. Does Leo have what it takes to survive this devastating disaster?