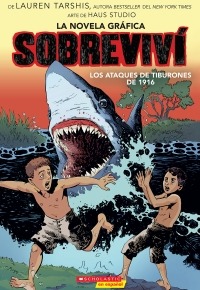 La edición española de la adaptación de la novela gráfica de ¡Sobreviví a los ataques de tiburones de 1916!
Chet Roscow ha comenzado a sentirse a gusto en Elm Hills, Nueva Jersey. Tiene un trabajo, tres buenos amigos y ha encontrado el lugar perfecto para nadar. Pero todo cambia con la llegada de un tiburón blanco que ataca cerca de donde vive. Todos hablan de lo mismo. Sin embargo, cuando Chet ve algo raro en el agua, piensa que es su imaginación... ¡hasta que se encuentra cara a cara con el tiburón!
The Spanish edition of the graphic novel adaptation of I Survived the Shark Attacks of 1916!
Chet Roscow is finally feeling at home in his uncle's little New Jersey town. He has three new friends, and they love cooling off in the creek on hot summer days. But then comes shocking news: A massive shark has been attacking swimmers in the ocean along the Jersey Shore, not far from where Chet is staying. Fear is in the air. So when Chet spots a gray fin in the creek, he's sure it's his imagination running wild. It's impossible he's about to come face-to-face with a killer shark... right? Based on the real-life events of the Jersey Shore shark attacks of 1916, this graphic novel brings Lauren Tarshis's New York Times bestselling I Survived series to vivid life. Perfect for readers who prefer the graphic novel format, or for existing fans of the I Survived chapter book series, these graphic novels combine historical facts with high-action storytelling that's sure to keep any reader turning the pages. Includes a nonfiction section at the back with historical photos and facts about the real-life shark attacks.