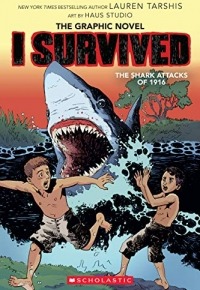 I am so excited to present my second graphic novel adaptation of one of my most popular I Survived books.

It's about ten-year-old George Calder, who can't wait to explore every inch of the Titanic, even if his little sister, Phoebe, has to tag along. But when George sneaks away without her and sneaks into the first-class baggage room, a terrible boom shakes the entire ship. Suddenly, water is everywhere, and George's life changes forever...

This full-color graphic novel is perfect for readers who prefer the graphic novel format, or for existing fans of my I Survived chapter book series.
All my books combine historical facts with high-action storytelling that I hope will keep readers turning the page...
Close to Shore, the Terrifying Shark Attacks of 1916 by Philip Caputo
See the (sort of) funny video for I Survived the Shark Attacks of 1916 that Scholastic Book Fairs created
Click here for quizzes, discussion questions, activity sheets and more