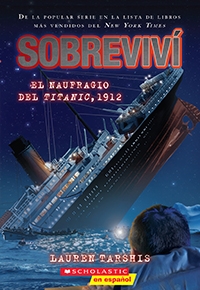 ¡Disponible ahora!
¡La versión en español de I Survived the Sinking of the Titanic, 1912!
George Calder, de diez años, está súper emocionado porque él y su hermanita Phoebe están en el famoso Titanic, cruzando el Atlántico junto a su tía Daisy. El barco está lleno de rincones fascinantes que explorar pero, cuando George se aventura en el compartimento de equipaje de primera clase, una terrible explosión sacude el barco. De repente, hay agua por todas partes y la vida de George cambia para siempre.
Ten-year-old George Calder can't believe his luck -- he and his little sister, Phoebe, are on the famous Titanic, crossing the ocean with their Aunt Daisy. The ship is full of exciting places to explore, but when George ventures into the first class storage cabin, a terrible boom shakes the entire boat. Suddenly, water is everywhere, and George's life changes forever.