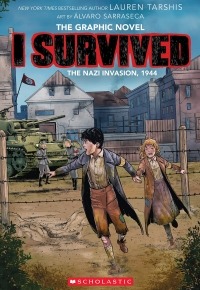 I am so proud of the team that created this beautifully drawn and scripted graphic novel adaptation of my book, I Survived the Nazi Invasion, 1944.
It's been years since the Nazis invaded Max Rosen's home country of Poland. All the Jewish people, including Max's fam­ily, have been forced to live in a ghetto. At least Max and his sister, Zena, had Papa with them . . . until two months ago, when the Nazis took him away. Now Max and Zena are on their own.
One day, with barely enough food to survive, the siblings make a dar­ing escape from Nazi soldiers into the nearby forest. They are found by Jewish resistance fighters, who take them to a safe camp.
But soon, grenades are falling all around them. Can Max and Zena survive the fallout of the Nazi invasion?
This 150-page book also includes nonfiction back matter with historical photos and facts about World War II and the Holocaust.  It's perfect for readers who prefer the graphic novel format, or for existing fans of the I Survived chapter book series who would like a more visual reading experience.

Click here for quizzes, discussion questions, activity sheets and more